At York, we dream big and in vivid colours. Welcome to the future of Canada's leading university, a time of bold architecture, smart classrooms, thriving transportation hubs, and more dynamic community spaces than ever before. There's never been a better time to join us.
Schulich School of Business Expansion
Set to open in 2018, the three-storey, 67,000 square foot Research and Graduate Study Building will be the new home for Schulich's research activities and graduate student. Alongside three new classrooms, 10 labs, study spaces, breakout and seminar rooms, the facility will house a variety of social and community programming, designed to meet LEED Gold standards.
York University - Markham Centre
York University will bring a new, 21st century campus to the vibrant and growing Markham Centre, in collaboration with its partners, the City of Markham, The Regional Municipality of York and Seneca College. In direct response to increasing demand for high-quality education in Ontario's new economy, the campus will offer professionally-relevant academic programs and workplace-based learning opportunities to over 4,000 students. With easy access to transit, major employers and research hubs, the York University Markham Centre will be a truly integrated, urban campus.
Subway Construction
With two new subway stations opening on the Keele campus in 2017, York will make higher education more accessible for thousands of Ontarians. The York University and Pioneer Village stations are part of a multi-billion-dollar subway extension project that will bring advanced post-secondary learning to students living across the Greater Toronto Area. This project will dramatically change the campus and its surrounding community, connecting people with the global thinking that will shape our world.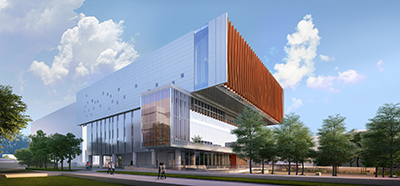 New Student Centre
By students, for students, and founded on the promise of community – York's New Student Centre will offer 126,000 sq. ft. of multi-functional, student-focused space. With meeting rooms, group study areas, recreational spaces, club offices, administrative support offices, commercial spaces and multi-faith prayer rooms, the Student Centre will be a hub of student life on campus. It will be a place of discovery and growth, where students from virtually every country in the world will realize the transformative power of friendship.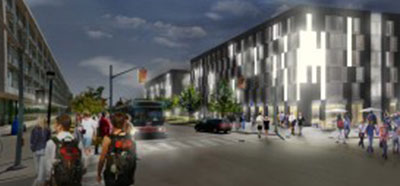 Quad Student Housing Community
The Quad student housing community, with 800 beds in two six-storey buildings, will be built on the south side of the Pond Road, to the east of Sentinel Road. The new buildings will feature modern suite-style units with kitchens, and many of the private bedrooms will have their own ensuite washrooms. Amenities, including lounges, outdoor courtyards, games rooms and fitness facilities will round out the Quad. The residential units will be for the exclusive occupancy of York University and Seneca@York students. The Quad project also includes a two-storey retail building that will frame a new publicly accessible square at the centre of the project. The south side of the Pond Road will be a pedestrian-friendly environment, with generous sidewalks, cafes, an open-air plaza and a tree-lined "greenway."