At York, we dream big and in vivid colours. Welcome to the future of Canada's leading university, a time of bold architecture, smart classrooms, thriving transportation hubs, and more dynamic community spaces than ever before. There's never been a better time to join us.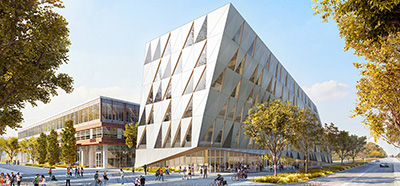 School of Continuing Studies
York University will add a new School of Continuing Studies building to its Keele campus to accommodate significant growth and support the creation of even more innovative programs for recent graduates, working professionals, international students and new Canadians in the future. An early design concept and budget estimate indicates a building sized at 9,000 square metres, with 39 classrooms, student lounges and social spaces, private work and breakout spaces, as well as space for 150 staff and instructors, set to open in 2021.
Schulich School of Business Expansion
Set to open in 2018, the three-storey, 67,000 square foot Research and Graduate Study Building will be the new home for Schulich's research activities and graduate student. Alongside three new classrooms, 10 labs, study spaces, breakout and seminar rooms, the facility will house a variety of social and community programming, designed to meet LEED Gold standards.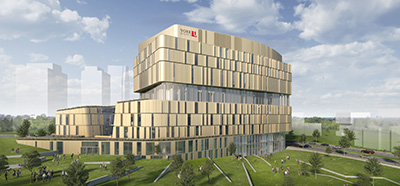 York University - Markham Centre
York University will bring a new, 21st century campus to the vibrant and growing Markham Centre, in collaboration with its partners, the City of Markham, The Regional Municipality of York and Seneca College. In direct response to increasing demand for high-quality education in Ontario's new economy, the campus will offer professionally-relevant academic programs and workplace-based learning opportunities to over 4,000 students. With easy access to transit, major employers and research hubs, the York University Markham Centre will be a truly integrated, urban campus.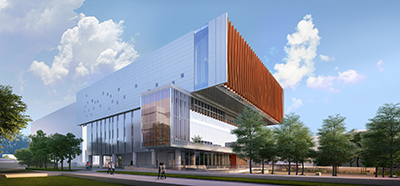 New Student Centre
By students, for students, and founded on the promise of community – York's New Student Centre will offer 126,000 sq. ft. of multi-functional, student-focused space. With meeting rooms, group study areas, recreational spaces, club offices, administrative support offices, commercial spaces and multi-faith prayer rooms, the Student Centre will be a hub of student life on campus. It will be a place of discovery and growth, where students from virtually every country in the world will realize the transformative power of friendship.