The entire York University community is deeply saddened at the passing of our dear friends and long-time supporters Honey and Barry Sherman.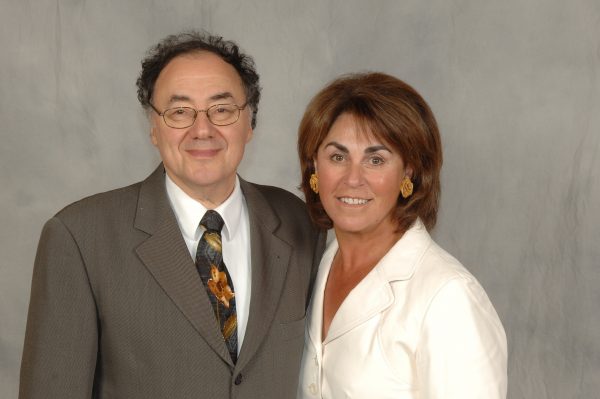 "Honey and Barry were visionary philanthropists and community leaders" says Rhonda L. Lenton, President & Vice-Chancellor, York University. "We mourn the loss of these wonderful members of our community whose friendship, passion for education and philanthropy has had a transformational impact on our students, faculty and staff, and will be felt for many years to come."
The impact of the Shermans' community engagement and volunteerism has been far-reaching, benefiting countless organizations. For more than two decades, they actively supported some of York University's most important initiatives. Honey served as a member of the York University Board of Governors since 2010 also serving on a variety of Board Committees.
Honey and Barry were Honorary Patrons of Impact, The Campaign for York University. Through their philanthropy, the University established the Sherman Health Science Research Centre, a state-of-the-art facility and home to York's world-renowned vision research.
"Honey and Barry have left a legacy of kindness, generosity, and support that will be felt for decades to come. Our thoughts and deepest condolences are with their family during this most difficult time."


What an immeasurable loss to the Sherman family, the York University community and indeed the world. Honey was a dynamic, passionate governor with a deep commitment to our university. She always shared her insights and ideas with enthusiasm and with the best interest of our students, faculty and staff in mind. She will be greatly missed. To the Sherman family, my deepest condolences.
Maureen Armstrong
University Secretary and General Counsel
My deepest sympathy to the Sherman family. May sweet memories of your mom and dad comfort you during this difficult time. May you find comfort in their presence around you. May they live in your hearts forever.
Mr. James A. Tulloch
Music Major-Jazz
My deep condolences to the family of the bereaved, indeed your great impact on our community will be felt, you left a big hole in our heart. I pray God rest your souls.
#RIPHONEYANDBARRY
The Shola Hecks
My deepest condolences to the Sherman family.
Monika Lewicka
MA Graduate Student in Socio-Legal Studies
My heartfelt sympathy and condolences to the Sherman's family at this time, as we mourn the loss of these great supporters of our community.
Stanley Ukah
Graduate Student
The impact of the Shermans' community engagement and volunteerism has been far-reaching. Mr. Sherman helped me pick Christmas gifts in his hardware store, and the family helped the community. The Sherman family is in my heart and thoughts. I am saddened at the loss of more family members.
P. Anna Paddon
My condolences to family and friends during this most difficult time.
My deepest condolences to the Sherman family, I can't imagine what they are going thru.
yorku grad
grad student
Honey and Barry were such wonderful, generous people to York University while I was president ....they were helpful, charming and the sort of people one hopes to know forever. I saw Honey recently before leaving Toronto and looked forward to seeing her again soon. They understood the importance of research and support for scientists. Their needless deaths are shocking and so unfair. Their family and countless friends will mourn them forever. My condolences to their children and grandchildren.
Lorna Marsden
President emerita, York University
My sympathy and condolences to the Sherman family.
James A. Forbes
PhD Candidate, Communication and Culture
we mourn the loss of such caring, devoted, and inspiring individuals
Denise Harris
Ms
My deepest condolences go out to the Sherman family
Esther Kamenetsky
Condolences
To the children and family of Barry and Honey Sherman: Please accept my condolences on the sudden passing of your parents who, as part of their giving back to the community, have contributed so much to the benefit of students of York University and the society -at-large encompassing the campus. Please consider in your new foundation the nursing school (as my wife is a nurse at OMH) and the economics/business faculties as there are so many qualified students who do not necessarily have the funds to pay to tuition and other fees. Your parents were exceptional people and will never be forgotten. Let us hope your father's company can benefit from supporting a lobby for universal pharmacare for Canadians at some point.
John Nagel
Independent Consultant/Preferred Share Finance and Investing; York/Vanier Alumnus
A true tragedy for us all. It is unbearable to loose such dear people. We cherish their memories and pray that God grants peace to their soul. My sincere condolences to the family, friends at this very difficult time.
Jananeh Asari
Application Support Specialist - Learning Technology Services (LTS), UIT
I am so saddened by this tragedy I just wanted to say how you are in my thoughts and prayers. I only hope the perpetrator s will be found and justice will be served. I do not know you, my husband and I are retired Doctor and a nurse practitioner, and are not part of the upper echelons of society but my heart aches for your family. God bless and I pray your family finds some peace with this support from total strangers.
Eleanor Armstrong
Unknown
So saddened by the loss of two selfless human beings, whom have given so much to change our world and make a positive impact on Academia. They will be deeply missed. Please accept our condolences. We will keep family and friends in our thoughts and prayers during this period of bereavement.
Pauline Christian
Immediate Past President of the BBPA
Barry and Honey's incredible generosity (in so many ways) to York community over the years is well known and our loss is great, and Honey's thoughtful commitment as a Governor with our Board was real and we were better for her contributions . Also, the loss to the Toronto and Canadian communities the Shermans participated in and supported can never be replaced. But, the loss to Honey's and Barry's loved ones is immeasurable. We can only pray that they may find comfort in each other as they grieve their loss of these two amazing parents, grandparents, siblings, aunt and uncle, and friends. Finally, I pray that Honey and Barry have found peace.
Randy Williamson
Governor and Immediate past Chair, - York University Alumni Board
Their support of York U is especially commendable.
Sigmund Roseth
Retired
I would like to thank the Shermans for their support and generosity to the York University community and my condolences to their family.
Jessie Dugayo
Ms.
While I never had the privilege of meeting Honey and Barry Sherman, I have always been aware of their deep involvement with, and long-time support of York University. I recall seeing inside the new Sherman Health Science Centre for the first time. It was exciting to see the transformed ice rink, where students used to write their final exams, and to know that York enjoyed support for such innovative and original projects.
I send my deepest sympathies to their family at this very sad time.
Dawn Bazely
University Professor
Honey was a wise and valued colleague and mentor on York's Board. In addition to her direct contribution around the board table, Honey and I met every quarter where I sought her advice on responding to York's opportunities and challenges. She was a savvy, direct, self effacing and in many ways, humble woman. I admired her immensely. and will miss her greatly. My deepest condolences to Honey and Barry's family.
Julia Foster
Immediate past chair - York University Board of Governors
Philanthropy. generosity and community mindfulness are rare needed qualities today, more than ever before! A sad loss
David Ogden
News of Honey and Barry's death was and continues to be devastating. I knew Honey as a feisty, determined, intelligent, wry, courageous woman. Words fail as I try to imagine the heartache of her family and close friends, so all I can do is express my most sincere sympathy and hope for finding a way through these dark days.
Harriet Lewis
University Secretary and General Counsel, retired
There are no words that can adequately describe the loss of Barry and Honey to their family and to the manifold communities that benefited from their presence. We mourn their passing but their memory will be with us forever. Our deepest condolences to the family .
Judi and Mickey Cohen
Judi and Mickey Cohen
My sympathies go out to the loved ones and friends of Honey and Barry and I wish you strength and peace. Our community is stronger and more vibrant from the contributions they made. I had the good fortune of meeting Honey on many occasions at York's External Relations Committee and I was always struck by her genuine passion and commitment to York.
Susan Webb
CCMO, Communications & Public Affairs
We invited Honey to join the Board of Governors when I was the Board Chair. Some were concerned that her zeal for the causes that were important to Barry and her would overwhelm the range of issues that are addressed by the Board. But Honey turned out to be a balanced and thoughtful director across the spectrum while never losing sight of her goals and ideals. We mourn for their family and for the many communities which Honey and Barry supported.
Paul Cantor
Chair of the Board of Governors (2009-2012)
My sincerest condolences to the family of Barry and Honey Sherman. Thank you for all of your contributions to York University and our community. Your legacy will surely live on & always be remembered.
Dhouha Triki
Masters Candidate - Gender, Feminist and Women's Studies
This is a huge tragedy for the entire Toronto community. Two great citizens & philanthropists. We pray for their family and loved ones. May god lessen the pain of their huge sorrow. Humanity is lessened by their loss. Annie
Annie Demirjian
Director, Glendon School of Public & International Affairs
Thank you for your vision and legacy. You will be greatly missed.
Judy Ginsberg
Librarian Emeritus
My deepest sympathies go to the family of Barry and Honey Sherman. Much has been, and will be, told of their many contributions to various causes, all in the desire to improve as many and as varied lives as possible. In 2006, Honey's tremendous talent and enthusiasm were major factors in the success of the campaign to support York's Accolade Building Project. They were special people who made a real difference. May the family be comforted in the good memories of their lives and their accomplishments.
Phillip Silver
Dean Emeritus, Faculty of FIne Arts (now AMPD)
I was profoundly saddened to hear of the loss of Honey and Barry Sherman this past weekend. I pray that their children and grand-children take some small comfort when they remember the lives they lived and their legacy of noble works and mitzvahs.
Daniel Cohn
Professor
I am so shocked and saddened to learn about the passing of Dr. Barry Sherman and his wife. I used to see him when I worked at Apotex 23 years ago..a brilliant, kind soul. He offered work opportunities to thousands through his shrewd business acumen, enterprise and under his leadership Apotex and its subsidiary companies have flourished. Like so many others I am fortunate and express my gratitude. This is indeed a tragedy of epic proportions and my thoughts and prayers with his family at this very difficult time .
Raji Iyer
Contract Faculty, Chemistry Department
My sincere condolences to the Sherman family. Honey and Barry have made an incredible impact at York over the years, through their generosity and leadership, and all of us here are mourning their passing. Their legacy will live on at York, especially through each student and researcher that has the opportunity to study within the Sherman Health Sciences Research Centre. Thank you.
Amy MacDonald
There's no word that can express how sorry I am to hear of the shocking loss of the Shermans. My thoughts and prayers are with their families and the many communities with which they have been such a vital part. Though I never knew them personally, their generosity will be a lasting legacy.
Alyson Gampel
Associate Director, Alumni Programs
My sincere condolences to the family, friends, and indeed the entire community on the passing of Honey and Barry. Through their philanthropy, they impacted the lives of countless people, and as community leaders, their wisdom guided many institutions forward. They will be missed tremendously.
Lisa Gleva
Senior Director, Development
Dear Sherman and Shechtman Families,
There are few words for all of the broken hearts over the passing of your beloved Honey and Barry. Our thoughts and prayers are with you during this very difficult time.
Elaine Botnick Mann (and Martin Mann)
Senior Advancement Officer, Office of the Vice-President Advancement, Jeff O'Hagan
Heartfelt condolences to the Sherman family at this difficult time. It was a privilege to know and work with Honey and Barry and to see the impact of their generosity on the community. Their legacy of kindness and support will be felt in perpetuity.
Jeff O'Hagan
Vice-President Advancement